Pack of 2 - Herbal Skin Cleanser - Topical Probiotic Skin Care. Deeply Purifying. Totally Organic.
1008-P2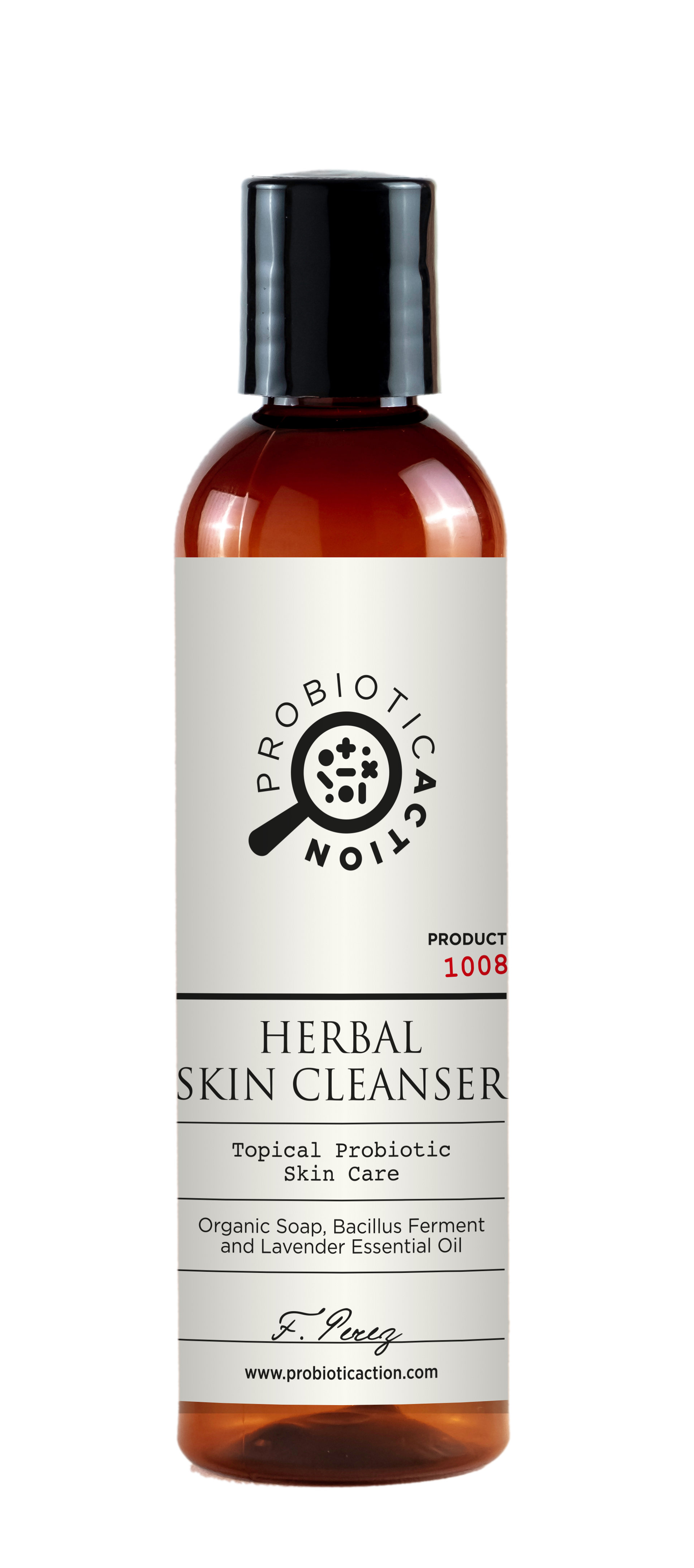 Probiotic Action's Herbal Skin Cleanser is an ultra-lightweight, unscented, 100% organic gel that rids skin of impurities, deeply purifying while protecting the skin with active, probiotic bacteria – good bacteria. This powerful plant-based, chemical free, and non-toxic formula, never damaging or drying, whisks away dirt and debris and clears clogged pores while restoring optimal skin flora balance, with immediate results. Within days, it reduces redness, inflammation, blemishes, and breakouts, calming sensitivity and irritation, to reveal a visibly clear, glowing and smooth skin.
HOW DOES PROBIOTIC ACTION WORK?
Probiotic Action's products work by coating the skin with a layer of Bacillus subtilis – good bacteria, naturally found on the healthy human skin – that fight harmful bacteria, such as Propionibacterium acnes (P. acnes), through a competitive exclusion process. By eating the excess skin and toxins that harmful bacteria need to survive, Probiotic Action's beneficial bacteria starve their competitors, on the surface of the skin and deep in pores. With regular use, the skin flora's optimal balance is restored, and natural immunity is boosted to fight environmental damages and maintain the glow, softness, and tightness of the healthy skin.
HOW TO USE HERBAL SKIN CLEANSER – TOPICAL PROBIOTIC SKIN CARE
Twice a day, mornings and evenings, wet your face with cool water.
Apply 4 drops of Herbal Skin Cleanser in the palm of your hand and gently massage all over moistened face in upward circular motion, taking extra time on problem prone areas. No abrasive wash clothes or exfoliants are needed.
Rinse thoroughly with water and blot dry.
saponified oils of sunflower, coconut, vegetable glycerin, rosemary extract, lavender essential oil and probiotic bacteria.
UPC:00860380001932
:5.48
:2